Custom Trooper Build.Big bore kit High Compression pistons oil cooler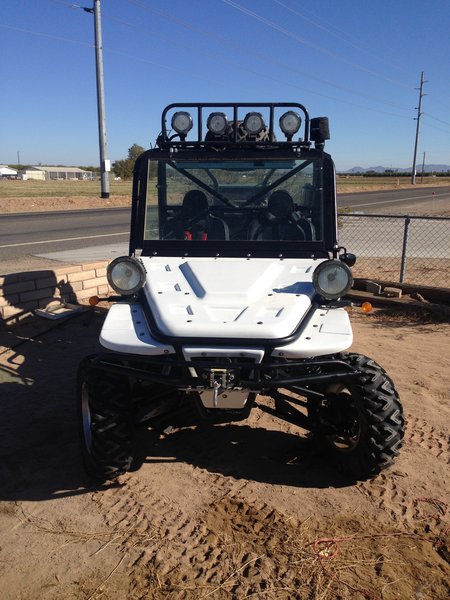 Custom Trooper Build.Big bore kit High Compression pistons oil cooler
Custom Trooper Build Complete rebuilt with all these parts Head, boring, crankshaft balanced
Give us a call for more details.

.70 over Forged High Compression Pistons (displacement is now 1200cc) and the compression ratio is 11.5:1.

EJK Fuel Controller
AEM Stand Alone Air Fuel Ratio Gauge (with LS4.9 02 Sensor)

Oil Cooler Kit
Radiator Relocation
Snorkel with K&N Filter
This was a short deadline build with only about 3 weeks to complete it. We put in the hours to get it done and it runs awesome. We relocated the radiator/over flow tank to the cage. Installed our oil cooler kit. Installed a snorkel kit with a K&N Filter (and filter sock) to help the new 1200cc engine breath cool clean air. Simply put, 4th gear down shifts on hills are no more. The ability to break the rear tires loose in 4th gear is just a bonus.

You can contact us:
M-S 9am-5pm MST 928-344-2117 (sales)
M-F 9am-5pm MST 928-373-8330 Dedicated dealer phone number

email: joyridejjj@yahoo.com